Every child deserves the chance to go to school. This past year, Chaloner Children's Charity has focused on building schools and supporting education initiatives for children living in some of the poorest and most disadvantaged countries in the world. Here is an update on some of the work that we've been doing with your help.
OUR WORK IN SIERRA LEONE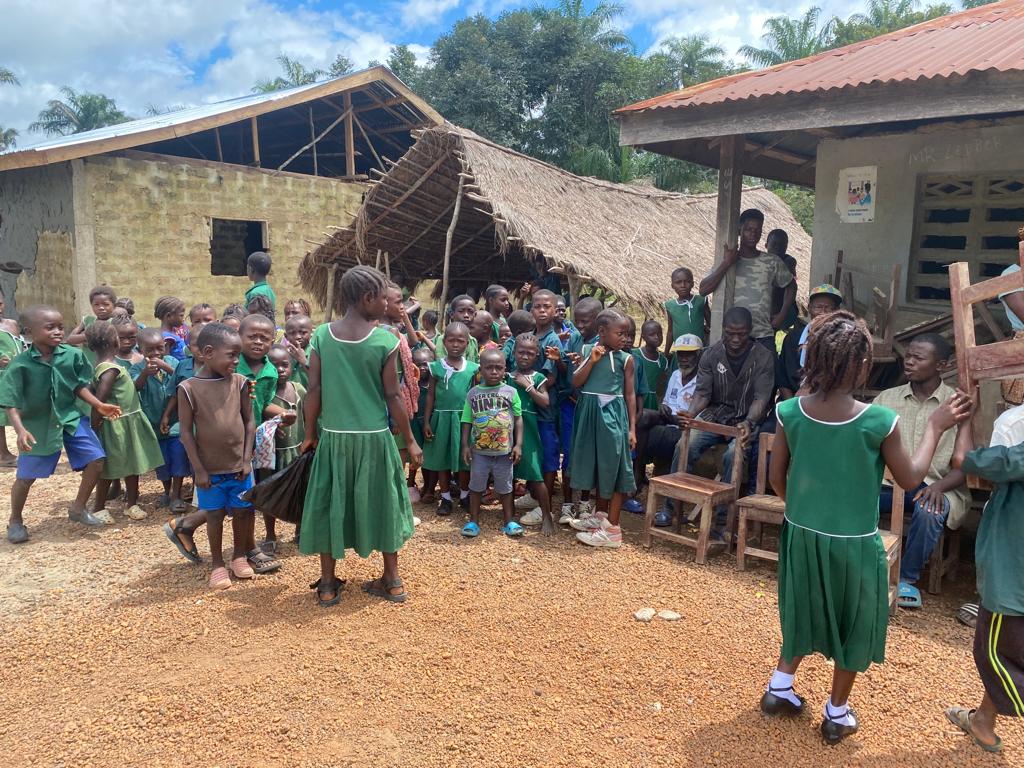 Their new school is under construction to the left.  It will be ready in a month but the children are already using it.
SCHOOL BUILDING CONTINUES
Since our last update we've completed 50 additional primary schools in rural communities bringing our total to 210 schools. Over 50,000 children are now able to gain a basic education in a safe structure.
Our work is being now recognized by the government in Sierra Leone as well as other charitable organizations. Schools built in the 2021 and 2022 programs have received 'soft dollar' funding support from the Foreign and Commonwealth Development Department. These funds cover the costs to send a teacher from each school to teacher training college, as well as funds to cover learning materials and income generating initiatives supporting the local communities. It's a very big deal because it ensures the sustainability of our efforts. In addition to governmental support, we've also been able to gain commitments for funding from two other organizations who have pledged 'soft dollar' funding for future CCCC programs over the next two to three years.
School is in session the classroom's aren't quite complete yet.
The government is now approving many of CCCC's schools and, as a result, many more of the schools have teachers on the government payroll. When the government puts a teacher on the payroll – it ensures the viability of the school and this has inspired other government support in these rural communities. In some cases we are finding that local governments are seeing the impact our schools are having in local communities and are building three-classroom extensions beside our schools to handle the overcrowding.
____________________________________________________
OUR WORK IN UGANDA
We have been working in the Palabek refugee settlement since 2019. The number of refugees has continued to grow and now numbers over 70,000 of which half are children of school age.
We support two schools in the settlement, Progressive Primary School and the Canaan School. With current enrollment of over 4,000 children, there are big challenges. At the Canaan School many of the children are still taught under trees because of severe overcrowding. This past year saw the construction of more classroom extensions and a head teacher's office. Further classroom extensions are desperately needed so children can learn in a safe space.

Currently there are 19 teachers at Progressive School and 32 teachers at the Canaan School. Education Cannot Wait has agreed to a new three-year funding program for the teachers starting in January 2023. The government has also recently agreed to fund an additional 8 teachers at our schools to reduce the teacher to student ratio.
THANK YOU! BECAUSE OF YOU AND THE SUPPORT OF DONORS LIKE YOU, THESE PROJECTS ARE CHANGING LIVES FOR KIDS AND THEIR FAMILIES. YOUR DONATIONS ARE HELPING THOUSANDS OF CHILDREN ACCESS EDUCATION BECAUSE EVERY CHILD DESERVES AN EDUCATION.