Our goal is to deliver primary education to all children living in rural areas. These communities receive no government funding for schools.
Sierra Leone is an English-speaking sub-Saharan country located on the coast of West Africa, bordering the Atlantic Ocean. The country was involved in a civil war from 1992 until 2002 and blood diamond conflicts with neighboring Liberia that crippled the economy. It was then hit with the Ebola epidemic in 2013-2016. Sierra Leone is considered one of the poorest countries in the world and faces an education crisis, as unemployment and illiteracy levels are high, particularly among youth in rural areas.
The Concern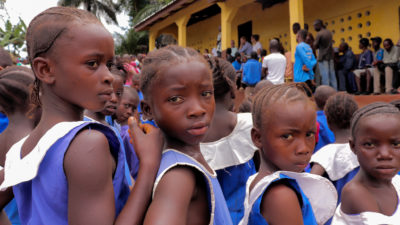 Since the end of Civil War in 2002, communities in Sierra Leone have managed to self-start low cost schools without government support. However, the school structures are basic and often unsafe, and when it rains children are unable to attend school. The government is making education a priority but does not have the funds to build schools in rural areas. However, if a school has a safe structure, one qualified teacher, and running water it potentially becomes eligible for government funding for the running costs of the school and teachers' salaries.
Chaloner Children's Charity is building low cost primary schools to enable all children living in these communities to receive a primary school education. Each school would accommodate anywhere from 100 children to 250 children.
Our Work
We build schools designed to last.  This includes new structures and rebuilding existing schools so that the children have safe learning spaces.  The schools have three classrooms with a mud block, iron roof and concrete floor structure. We also support the development of teaching and resources in the schools.
Sustainability at our schools is an important part of the project. Our NGO partner ensures that each community is supported to develop a focused micro-finance initiative, usually some form of community agriculture, to pay for the on-going costs of the school. This promotes self-sufficiency after the initial start-up period. The goal is for all of the schools to qualify for government support, which would make these schools sustainable.  This is already starting to happen and a number of schools now have one or two teachers on the government payroll.
Our IMPACT so far…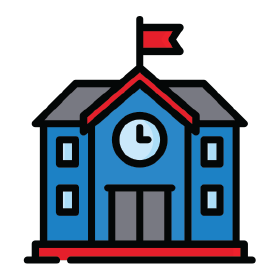 60 Schools Built in 2019
50 Schools Built in 2020
50 Schools Built in 2021
50 Schools Built in 2022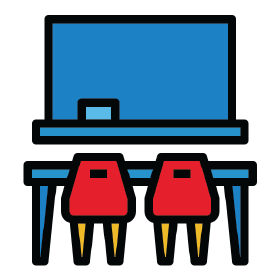 50,000 +
children able to access improved learning environments in a safe structure
25,000
of those children are girls
Cost Per School for 100 Students
New Construction:
C$10,000
Rebuild Construction:
C$6,000
Class Furniture:
C$2,000
Teaching materials:
C$500
Teacher training:
C$3,000
2019 Update
In 2019 Chaloner Children's Charity Canada completed its first project in Sierra Leone.
The program was for 60 schools and involved new builds, rebuilds, and renovations. The average cost per school was US$5,000 (C$6,500) for a total commitment of US$300,000 (C$390,000). The project was divided into two phases, with 23 communities completing their school structures in just four months. The second phase saw 37 communities finish their schools by September in time for the start of the new academic year.
Of these 60 schools, 15 were new constructions, 29 dilapidated schools were rebuilt and 16 were renovated structures; creating a total of 180 classrooms. Each school was provided with a start-up learning materials package.
2020 Update
In 2020 Chaloner Children's Charity Canada completed a second program for 50 schools. This consisted of 25 new builds, 12 rebuilds and 13 renovations. This also included 78 newly constructed classrooms, and 86 rebuilt and renovated classrooms. All the schools were provided with furniture and start-up learning materials. The program was completed in time for the start of the new academic year, and included a higher percentage of new constructions than the previous year. The program came in under budget at US$295,000 (C$400,000).
2021 Update
In 2021 Chaloner Children's Charity Canada completed a third program for 50 schools. There were 31 new constructions, 7 rebuilds and 12 renovations. Furniture was also provided as well as teaching materials for the schools. Due to the impact of the pandemic and inflationary pressures, expenditure was 3% above the original budget of US328,000 (C$440,000). 40 of the new schools were in the Southern Province and benefit from 'soft dollar' funding from the Foreign and Commonwealth Development Department. This includes mentoring and teaching training programs as well as additional learning materials.
2022 Update
The Chaloner Children's Charity Canada undertook a further 50 school construction programme in 2022 which should be completed by the end of October.  The majority of the schools will benefit from the second phase of funding from the Foreign and Commonwealth Development Office.  This will include teacher training, learning materials as well as income generating initiatives for the local community. Many of the schools are already being used, and over 50,000 children are now learning in a safe structure.
Help Us Reach Our Goal
We can do more with your help. Let's build these schools together and brighten thousands of children's futures.